The internet industry is flooded with loads of eCommerce applications that are determined to offer unique and the best of services to the end users. It is very important for the business owners to have a complete platform offering range of services to the customers. eCommerce web application development help the enterprises to carry out the business operations smoothly and instantly.
Proper design and development of an eCommerce site plays a crucial role in its success. A bad user interface or a complicated payment system can annoy online customers. Therefore, it is essential to get domain experts or professionals who can carry out well-organized eCommerce website development and can integrate it with necessary functionalities.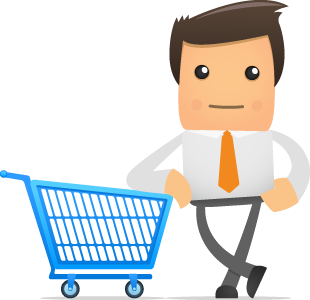 There are a different kind of platform to develop a eCommerce portal:
Magento osCommerce ZenCart OpenCart WooCommerce
These all an open source eCommerce development software offering complete safety and security features along with advanced options. Magento and OpenCart development has taken the center stage when it comes to eCommerce development.
These platforms customization enables the business owners to develop flexible and feature rich eCommerce platform which will help in building a complete online selling store. Companies having services ranging from small to big opt for development due to its efficiency and cost saving operations. It takes little time for the developers to develop applications that can seamlessly integrate with the systems.
There are tons of open source platform extensions available that will help you to customize the features for your eCommerce portal. The greater flexibility options helps the developer to tweak the existing functionality of the extensions and make them custom based. A stable and reliable eCommerce store with rich functionalities can easily be built.
Open source platform development takes less time and cost when compared with other software platforms. There are several numbers of offshore development companies which should be rightfully picked to save money in the long run. It is very important to select the right IT analysts to execute your project who can add value through experience to your projects.
Verloop Web is one of the pioneers in the internet industry and our eCommerce development teams have a rich experience in building eCommerce portal. Customer's long term satisfaction is our motivation and we strive hard to deliver excellence through quality. Our ability to capitalize on every opportunity makes us a real leader in development.
Tremendous success of eBay and Amazon has inspired several online merchants to build their own online brands. But, for building an online brand, you will need an eCommerce site that generates traffic, brings more conversions and yields better results. These three criteria can be fulfilled with sites developed by us.
eCommerce development is one of our core competencies. We have been building eCommerce sites those have helped us to gain the trust and faith of our clients. We have become an important partner in their progress.
---
We furnish you with the following eCommerce web development services that will help you to select the most suitable one for your project:
eCommerce strategy and planning
Custom shopping cart development
Custom eCommerce web development
Third-party application integration
Optimization of existing sites
Integration of payment gateways
Integration of SMS API
Integration of tracking system API
---
Key Features of eCommerce Portal:
Catalog, Product and Order Management
Analytics and Reporting
Customer Accounts Management
Payment support, ccAvenue, Google checkout etc..
Shipping support, FedEx, DHL, BlueDart etc..
International Support, Multiple Currencies, Tax rate calculation etc..
Search Engine Optimization (SEO)
Marketing Promotions and Tools - Bulk SMS, Bulk Email, etc..
Site Management
---
Our eCommerce Shopping Cart Development services includes:
Templates Design
Design Integration
Theme Design
Platform Customization
Extension Installation & Development
Newsletter Templates / Design & Transaction Emails Templates
eCommerce features
Blog Integration
eCommerce Enterprise Solutions
Custom Landing Page Design
Category / Products Data Entry Jobs
Portal Integration with CMS like Magento, Jhoomla, etc..